It May Be Cold Outside, But It's ALWAYS Warm in the Greenhouse 
Mother Nature surely must be joking!  After what could be called a reasonably mild winter thus far, now, at the end of February, we receive a dumping of ice and snow and forecasts of yet more ice and snow.  Don't you wish you could just forget all about the nasty weather?
Come to Martin Garden Center, and you will be transported into a lush garden oasis.  And, for as long as you wish to remain in our greenhouse, you'll be warm while you enjoy viewing all the early spring bloomers … Gerbera Daisies, Ranunculus, Cyclamen, and Primrose (did you know that only the yellow blooms are scented).
Yes, Mother Nature may still have some nasty tricks to play on us, but a visit to  Martin Garden Center will renew your faith that Spring will arrive shortly, and with it more beauty than human beings should be allowed to witness.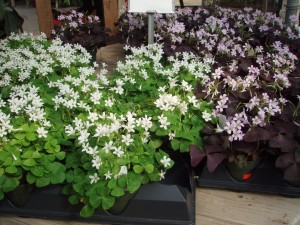 Luck O' the Irish To Ya!
It's that time of year again when shamrocks rock, and all who are not Irish born wish that they were.  St. Patrick's Day is just around the corner, and that means Spring can't be that far off … can it?
Shamrocks, or three-leaf clovers, abound in Ireland. The lucky four-leaf clovers, which number approximately one for every 10,000 three-leaf clovers, are more likely to be found in lands covered in shamrocks, hence the origination of the term "Luck of the Irish." And all this time you were thinking it had something to do with Notre Dame football.
Wishing you a rainbow
For sunlight after showers—
Miles and miles of Irish smiles
For golden happy hours—
Shamrocks at your doorway
For luck and laughter too,
And a host of friends that never ends
Each day your whole life through!